EVA will revolutionize the way gynaecologists manage screening camps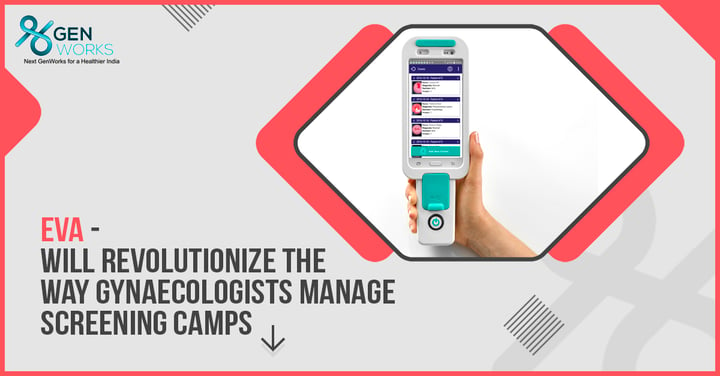 Since 1950s, developed countries have successfully used Pap smear and Colposcopy in tandem to detect pre and early cancer of the cervix. Timely diagnosis of cervical cancer at the pre-invasive stagehas greatly reduced mortality rates in these countries. Typically, if every woman undergoes an annual Pap smear after the age of 30, it is possible to diagnose all probable cases of cervical cancer in the pre-cancerous stage itself. When this annual diagnosis is done on a large scale then it is called a screening programme.
The success of the Pap smear screening programmes is mainly due to the effective call/recall system that ensures that all the women with abnormal Pap smear results are further evaluated by colposcopy for biopsy and women who test positive are then treated appropriately ensuring long-term follow-ups as necessary.
Screening Scenario in India
The rationale for screening lies in the fact that it takes 10 to 20 years of natural progression from mild dysplasia to cervical cancer and timely diagnosis by regular screening makes this cancer a preventable one. Though India accounts for 16 per cent of the total cervical cancer cases occurring globally, nearly 80 percent of the cases are detected only in advanced stages resulting in high rates of mortality. These detections are based on opportunistic screening or after the onset of symptoms.
While, different screening strategies such as cancer registries and camp approach and different screening techniques such as cost-effective tumour markers, visual inspection with acetic acid, visual inspection with Lugol's iodine, visual inspection with magnification devices-magnavisualizer, Pap smear and HPV-DNA testing have been suggested and tried under low-resource settings of our country, the cervical cytology screening with colposcopy remains the most effective technique in reducing incidence of the disease.
What causes poor screening coverage?
Despite the existence of the national guidelines since 1970s, and multiple efforts for widespread screening by Government and non- government health care sector, the screening coverage and follow-up are quite low especially in the rural areas. Many studies have shown only around 30 percent of women who attend awareness camps attend the screening camps and that only around 50 percent of those who attend the screening camps agree to undergo pap smear testing. The many obstacles for this poor conversion rate of awareness to screening campaigns include ignorance, illiteracy, socio-cultural taboos, shyness, fear, lack of access to diagnostic care and limited human and financial resources. Safe motherhood and family planning are also two important issues of women's health that overshadow the need to focus on cervical cancer in the Indian health scenario.
EVA for better conversion rates of women from awareness campaigns to screening camps
For a cervical screening programme to be successful, it requires a lot of time, resources and meticulous planning backed by trained health care personnel. Most of all, an impactful awareness campaign that educates and motivates the women to attend the screening camp is a pre-requisite. This is where the gynaecologist could wield Eva to improve the conversion rates.
A picture is worth a thousand words and could leave a lasting impact on the patient. Extensive use of the digitised images from EvaColpo and lucid explanation of its non-intrusive ease of use for diagnosis in the awareness campaigns could help educate the women, dispel their fears about invasive testing and reduce the awkwardness and embarrassment especially among the rural women.
Eva is portable and a single battery charge lasts a whole day
One of the problems with testing women at camps in remote locations is that electricity may be intermittent. And colposcopes are not easy to deploy in such environments. That's where Eva is a major departure from the norm. Since it is portable and easy to use even in less than perfect environments, doctors can examine large numbers of patients and arrive at diagnoses instead of having to compromise on the evaluation. By speeding up examination and being battery operated, Eva makes it possible to drive down the incidence of cervical cancer in the general population
EVA for multiphasic screening
Multiphasic screening means screening the target population for more than one condition. Multiphasic screening could improve acceptance to cervical screening when it is offered along with other health check-ups such as breast and full genital tract screening and check-up for other medical conditions such as anaemia, diabetes, hypertension etc. The use of EVA during multiphasic screening makes the diagnostic process, reliable, safe and rapid. Therefore, EVA is the go-to diagnostic tool that could help screen large number of women in multiphasic screening camps and thereby increase cervical cancer screening coverage.
EVA for selective screening
While mass screening which is screening of an entire population is untenable due to lack of monetary and resource constraints in a country like India, EVA could make a discerning impact in selective screening efforts by gynaecologists. Selective screening means selecting a high risk population such as women in the age group of 35-64 and screening only them. The use of EVA in selective screening camps can help reduce multiple visits, if biopsy is required as it can be done during screening with colposcopy.
EVA and mobile screening camps
It is possible to make cervical cancer screening more accessible with EVA. The compact, digital, portable and easy to set up EVA colpo makes it possible for gynaecologists to operate mobile cervical cancer screening camps along with well women check-ups that can be hosted at worksites, factories, housing complexes, offices and educational institutions. EVA enables a large coverage of women of similar age groups and high-risk categories in these mobile screening camps hosted at workplaces.
EVA and opportunistic screening
EVA could be easily incorporated as an opportunistic screening method to every woman who approaches a gynaecologist for any women health issue such as a health check-up, menstrual problems, urinary incontinence, family planning, delivery, abortion etc.
EVA eases documentation hassles of screening camps
Irrespective of the screening strategies such as camps, mobile screening camps or rural registries, use of EVA as a screening tool greatly cuts down the time taken for documentation of collected data in these screening camps. The EVA mobile colposcope allows for easy note-taking and inputting of patient information directly onto the captured images and allows case notes to be saved, downloaded and securely integrated to any Electronic medical record (EMR) system. This enables screening of large number of patients than before.
EVA is integral to cervical cancer detection and management
The guidelines for cervical cancer screening programme released by the Ministry of Health, Government of India, recommends VIA based screening at the primary health centre and a single visit approach for colposcopy and management at district hospitals. Integrating EVA into these multiple screening approaches such as the ones mentioned above could revolutionise the way gynaecologists manage screening and help achieve significant reduction in cervical cancer case load.