How do you deliver quality healthcare to a billion people? You innovate.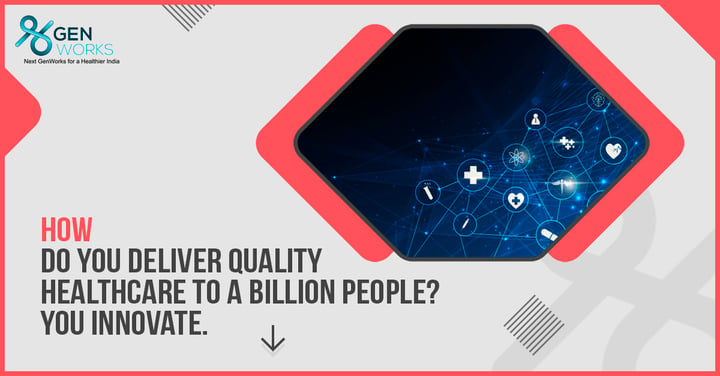 5 years is a good time to look back on a journey and assess how far you've come. It is long enough to provide perspectives on what the objectives were and what has been achieved. At GenWorks, we were very clear that the problem we were tackling had no easy solutions. Several governments had tried to improve the state of healthcare delivery across the country and there was still a huge imbalance between what was needed and what existed. Even today, 70% of specialists cover just 30% of India geographically.
This has several implications. Rural and small-town India do not have the resources or the infrastructure for delivering quality healthcare. For that, people still travel long distances when they can afford it, to get treated in the big cities. This restricts access to a fraction of the rural population.
At the same time, building infrastructure is also not viable when it has to be subsidised by money from the government in the short and medium-term. Healthcare is not a singular problem that can be addressed by simply building more facilities. The prevalence of diseases varies dramatically and in most cases, is not predictable. So, how can the problem be tackled?
S.Ganesh Prasad, Founder, MD and CEO of GenWorks - Driving change at scale.
With over 25 years of experience in the Indian medical devices industry of which 18 years were spent at GE Healthcare, Mr. Prasad has first-hand knowledge of conditions in India and what works locally. This invaluable experience has helped built close ties to people and companies collectively looking to solve the problem with unique perspectives. There is no magic bullet but a series of small steps taken strategically can build the momentum for massive change. And that is precisely what we at GenWorks set out to do.
Increase access, improve affordability.
How do you increase access? You empower rural doctors to tap into the expertise of specialists from across the country or even the world. Technology has made it possible for diagnosis and treatment to be delivered from a trusted point of contact. Doctors working in rural areas have spent years with their patients and built sustained and strong relationships. When they are empowered with low-cost diagnosis and treatment options at the primary level, they can tackle a larger pool of patients and make healthcare a lot more affordable at the local level. This sets off what GenWorks calls the Care Cycle - a virtuous cycle of care that steadily expands to provide access and affordability to a larger group of people as more doctors are empowered with solutions locally.
As Mr. Prasad says" We have built our brand on the promise of improving healthcare access and affordability. In the last 5 years, we have been working towards the goal and have made big progress. We have successfully led startup incubators focusing on affordable health like Villgro, and IIT-SINe, Tricog and even partners across the world (MODT from Israel) We build alliances with large healthcare companies like NATUS, Menen, Belmont, SFRI, Snibe and Chema. In addition to GE, these companies help us with solutions that are both accessible and affordable.That helps us deliver on the ground"
Today, GenWorks has already placed over 350 employees at 130 locations across the country. That sets the pace for interactions and implementations with doctors and healthcare providers at the point of care.
One step at a time
Over 60% of the primary health care centres in India do not have more than 1 doctor. That will require sustained hand holding to remedy and grow. GenWorks has also mapped out the areas on healthcare where we can make a difference both in terms of impact on the ground and in being able to grow a sustainable business.
With solutions in radiology, cardiology, women's health and infant care, Gen Works is addressing the areas that need to be prioritized, since these are the most highly prevalent health issues that need immediate attention. As a result, GenWorks has been able to make an impact and show a discernible difference, both in the quality of care and in outcomes.
Reducing the load on the healthcare system
Early diagnosis and screening keep healthcare costs down because problems are nipped in the bud and patients can be assured of a complete return to normal. So, whether it is cervical health, where India has the highest numbers of cervical cancer cases or improving the mortality rate of infants by screening early on, GenWorks is bringing about a sea change in the attitude of healthcare professionals by making screening a priority and reducing the load on the healthcare system.
This will take a few years to play out but it means that the care cycle set in place now will help to keep the numbers of critical cases in check and given India's population numbers, even a small dip will save patients and the country crores of rupees in healthcare expenses and deploying infrastructure.
5 eventful years
In spite of the short time frame, GenWorks has still managed to reach over 10,000 customers and touch over 200 million lives. That shows that the practices and systems we are putting in place are headed in the right direction and at some point in the future, this will have exponential effects.
In a country as vast as India and with so many languages and customs, raising the standards of care and reaching people in remote locations will always be work-in-progress. But we have a framework on which to build on - as doctors and healthcare focus on care cycle delivery, the health of people will improve substantially, and make it possible to reach even larger numbers over time. This makes it easier to provide critical care to the people who need it the most. As sophistication and knowledge ripple through the system, it will drive trust even deeper and help doctors at the edge of the system to make a difference to patient outcomes.
Like most problems that have no easy solutions, GenWorks knows that innovation and applied expertise can transform entire communities over time - and that is the long-term goal