In-Vitro Diagnostics in the New Normal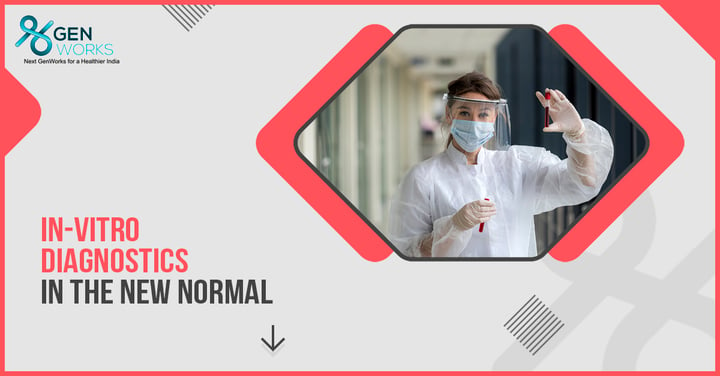 The Medical industry has grown in leaps and bounds in terms of diagnosis with the current pandemic. Diagnostics has become the crème de la crème in terms of utility and purpose over the year.
IVD (In vitro diagnostics) transcends the entire care cycle in diagnosis, cure, prevention and treatment of Infectious Disease, Diabetes, Cancer/Oncology, Cardiology, Autoimmune Disease, Nephrology, and Other Applications.
The SARS CoV-2 pandemic had necessitated the wide use of IVD tests in diagnosis all over the world. So much so that the possibilities of it overtaking other diagnostic test may be high since it is being used across all populations affected by the pandemic
Next-generation sequencing (NGS) technology sequences DNA or RNA to study genetic variation associated with diseases or other biological phenomena and is effective in diagnosing new strains as the virus mutates and spreads. It is critical for researchers, vaccine and drug developers to be equipped with knowledge of mutant strains.
The advanced molecular diagnostic systems developed by professionals contributed to the vaccine against SARS CoV-2 being made available in time to contain its sustained spread in the world.
The pandemic will eventually subside and there will be a focus on the use of IVD across medical areas in the future. In India that is home to a multitude of chronic diseases and seasonal breakout of epidemics, the IVD is expected to mitigate the impact. With consumer awareness about the use and importance of IVD, the demand is expected to grow exponentially.
According to IARC, the International Agency for Research in Cancer and the National Diabetes and Diabetic Retinopathy Survey report 2015-2019, the prevalence of cancer and diabetes in India is high and is predicted to further rise in the coming years. The use of IVD in prevention, diagnosis and treatment of these ailments is sure to help relieve the stress on the healthcare industry and improve the quality of life in those affected.
The Healthcare industry in India is witnessing a slow but sure transformation. Growing customer awareness about the importance of investment in healthcare and government policies are driving this change. These gains can be consolidated by making access to affordable diagnostics available across geographies.
GenWorks which was formed to improve the country's healthcare scenario is backed by GE Healthcare to help fulfil its vision – 'At work for a healthier India'.
GenWorks with the INVIT IVD brand has been continuously making efforts to contribute towards providing timely diagnostics solutions at affordable cost. With the wide-ranging portfolio in chemistry, haematology, immunoassay, urinalysis, and point of care tests has enabled early diagnosis of disease leading to proactive treatment
To further enhance solution offering in the IVD field ,we are proud to announce our association with global brands who are considered gold standard in their respective fields

THERMO FISHER – For diverse drug assays ( Immuno suppressants ,Drug therapy monitoring and drugs of abuse ) combined with the sophisticated Indiko range of chemistry analysers Thermo has introduced a revolutionary breakthrough technology in their latest offering Accula which is a point of care PCR for detection of COVID giving results in 30 minutes
PERKIN ELMER – Range of advanced prenatal & post-natal Immunoassay screening equipment and entire reagent associated with the same
BECTON DICKENSON – Advanced Blood culture detection equipment, media. Also, BD's direct to slide (DTS) equipment and tissue collection devices

All the above are now part of GenWorks' portfolio and will be part of our solution offering for various Labs, hospitals and Diagnostic chains

With a presence in in all 720 districts of India where access to healthcare technology and training are minimal, the aim of InVit, the In Vitro window of GenWorks is to make solutions affordable, accessible, and equitable through the length and breadth of the country. 'Fore warned is fore armed' and with a growing awareness on the importance of timely and accurate diagnosis of disease amongst the urban Indian population, a small step in the right direction has been made. Inroads into the rural areas with awareness, availability and affordability is the next step.
Acknowledgements: