Self Distancing is the new self care. How can technology help?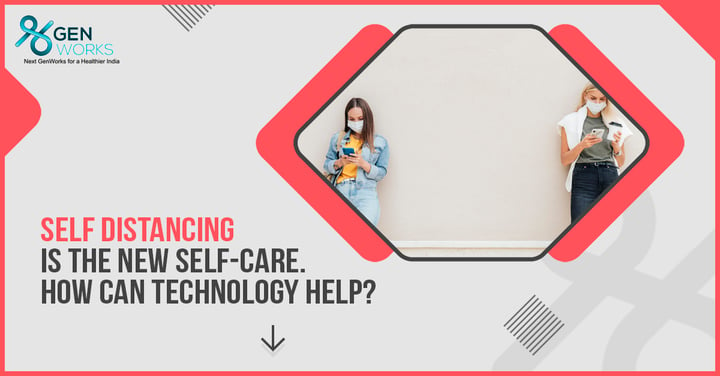 Prevention- The fundamental and an important first step. Health care starts with Self -care.
The WHO defines self care as "the ability of individuals, families and communities to promote health, prevent disease, maintain health, and to cope with illness and disability with or without the support of a healthcare provider". The statement itself is simple, but with multiple interpretations. Obviously, it was carried by the WHO to spread awareness about curtailing the spread of the pandemic, but if reflected on further, it is a way of life in the new world order ushered by Covid19.
Taking Covid 19 as the first step in our analysis, the phrase suggests that one can be safe of the virus if one maintains a stipulated distance from people and places at all times. Statistics have proven that this has worked. The forced dependence on online delivery platforms for all our needs- everyday needs to once in a lifetime needs, were so well looked after by online platforms beginning from Amazon to Practo, that they need to be encouraged to be used for a lifetime. The way going forward in the New Normal is Self – Distancing as Self Care.
What about the New Self Care in Healthcare? WHO recognises self-care interventions as a means to expand access to health services. Today's circumstances have brought Health, long taken to mean only 'cure' in our country, into the limelight. It is being transformed slowly but surely as self-care, not only in fitness but in the prevention and prediction of disease.
According to The Indian Journal of Communicable Diseases, our country is burdened with the challenges of infectious diseases like tuberculosis, chronic ailments like CVD's and respiratory ailments, lifestyle diseases,cancer and pandemics. Not only is our Healthcare infrastructure ill-equipped to deal with all of these simultaneously, but it is also fast becoming necessary as 'self -care' to maintain minimum physical contact. Therefore, it is necessary to develop digital health platforms to meet the requirements. CVD, cancer, diabetes and chronic pulmonary diseases together constitute 80% deaths in India and are all linked to deficient lifestyles and are therefore preventable to some degree.
Various technology & distribution platforms have not yet geared up or begun focusing on this emerging trend .
At Genworks ,as a Solutions company ,we were the first to identify this need, and as early as in May, we launched our digital solutions for early screening , triaging ,and AI solutions for predicting early health problems .We also used this technology to connect and to consult remotely ,using the digital innovations for remote interpretations to support our customers for evidence based treatment and care .
Our telemedicine , tele ECG and tele Radiology platforms played a significant role during the pandemic to support our customers and to save lives .
We have now added a full suite of tele solutions , AI tools , Remote and connected interpretations that connect to a specialist 24X 7 anywhere in the country .
Our AI based solutions cut across the care cycle needs of Early screening , diagnosis and post treatment monitoring .
We have partnered with the best in digital solutions that are AI enabled such as, MODT for cervical assessment, Braster for Breast Assessment, AudIvo for wound assessment, Cnoga for post treatment monitoring of various chronic diseases,and Gynisus AI based prediction algorithm for preventive and early assessment of several health conditions such as pregnancy, pre and postpartum assessment , new born care and several cardiac and chronic conditions . These can support Covid risk assessment and ICU risk assessment as well.
We are looking for more such solutions to enhance remote and quality care.
According WHO, CVD kills approximately 17.9 million people every year out of which one third deaths are premature. Can this be prevented? With easy to recognize risk factors like raised blood pressure, glucose, and lipids; obesity ; consumption of tobacco and family history, there can be an early diagnosis if we take to promoting self- awareness as a precursor to self- care.
Our tele solutions for Tele ECG, telepathology and telemedicine give a complete and comprehensive solution for CVD.
Enhanced surveillance and reporting systems would help in this. We have developed point-of-care devices for measuring glycated haemoglobin (HbA1c), glucose, total cholesterol and triglycerides using a single drop of blood. Our solutions allow users to record their vital statistics like blood pressure, weight , sugar levels and many other points of care testing , provide them with the reports , trends and recommend the course of action to be taken.
Self- care in the women of India is low, even more so in rural India. Maternal mortality rate and infant mortality rates too are a leading cause of death in India.
There are many solutions that can change this and we need to build an ecosystem that is supported by self assessment supported by connected devices and health workers that are trained and remotely connected to specialists. We have technology we need to influence the care givers for adoption and for creating partnership models that are seamless .
No self -care is complete without providing an impetus to mhealth which cannot succeed without demand for care outcomes as opposed to fitness apps that are popular today. The website of the National Health Portal, set up by the Ministry of Health and Family Welfare, Government of India, lists a number of mHealth apps that the population can benefit from and is bound to increase in scope.
The New Normal in Health is Self- Care in the broad spectrum of leveraging technology to promote self- distancing, enabling prevention of disease and facilitating prediction