The New Normal in Healthcare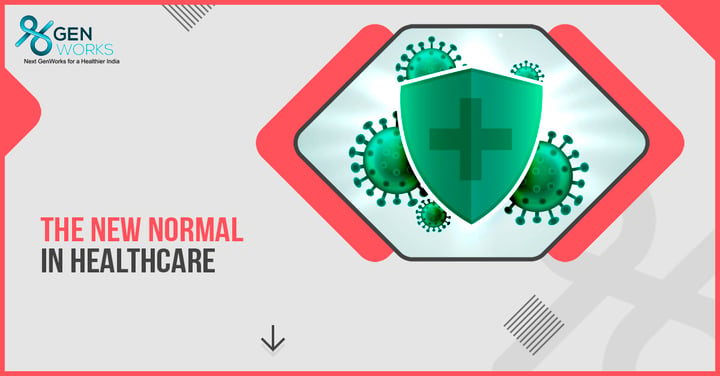 The healthcare environment has changed dramatically with the onset of Covid-19 and all stakeholders will have to make changes to their ways of working - this is the 'new normal'- with new standards, new expectations, and new norms.
At GenWorks, we have the resolve to solve emerging problems and deliver the requirements that the healthcare systems seek from us. We are looking at transforming the healthcare environment. We're conceiving delivery systems that will work without contact being the mainstay. This is our outlook for the safety of our doctors and that means rethinking the entire care chain. Patient to Doctor. Doctor to Support Team.
Diagnosis. Care Delivery. We aim to do it at scale to provide cost-effective solutions that benefit everyone involved and help in improving productivity and bring more efficiency.
Faster, Comprehensive Telemedicine Solutions
We are deploying technology for faster and more effective solutions. Our test of character is to empathise with what our customers are trying to solve for, and not to develop transactional relationships. We are a solutions company and we will help our customers tackle the new normal by exhibiting responsive and responsible behaviour. Not capitalize on short-term opportunistic requirements and restrict our solutions for a short-term need. Our solutions should be what we need to bring transformation and transparency to streamline healthcare delivery and solve for access and affordable care.
Our approach will be different, leveraging scale to provide cost- effective solutions by looking deeper into what will work across the entire ecosystem. A pandemic that spreads with contact can be only dealt with by avoiding contact. Our approach is to ensure contactless interactions or minimal contact with appropriate safety protocols in place. A transformation to reform with actions is being enabled now. Our approach for the "New Normal" is to optimise remote care. Remote care was built with the objective of expanding access where healthcare did not exist, or specialists were few and far between.
As Rekha Menon, Vice-Chairperson of NASSCOM said during a recent webinar "Technology can be used for a range of purposes like manufacturing smart low-cost devices, remote consultation platforms, monitoring health wearables, democratising diagnostics, enabling policy development and engineer ecosystems to calibrate collective efforts of governments,"
Impacting the entire Care Cycle
This needs a deeper understanding of our customer workflow, patient behaviour and most importantly safe care. Safe care is safety of patients, safety of patient families and safety of our Doctors and Paramedical staff. How can we build healthcare infrastructure to connect to the care cycle? How can we build an ecosystem of care for the "New Normal"? Our success will come, not from managing transactions that emerge as a short term need but from being the solution for saving lives. And ensuring that our customers' success and safety is deeply connected to a healthier India.
We're implementing solutions that help doctors maximise their productive time – by cutting down on travel and making them available for remote consultation through modes that patients and caregivers are more comfortable with. For patients, we're increasing the ability to reach out to their doctors of choice at a clinic close to them. We're developing the ability to provide solutions to scan patient vitals, diagnostic tests, support remote specialist interpretation and guidance.We seek to unify them into a format that gives doctors the power to make an effective diagnosis.We're automating the collection of patient records and enabling doctors to go over patient histories with ease while protecting privacy and maintaining the highest security standards.
GenWorks was born to create access and affordable care and now we have the responsibility to be providing safe, affordable access as well. Empathy with a deep understanding of what our customers want from us will drive this transformation of Healthcare. Our commitment is to deliver and promise to build trust with every action, not transaction.
The New Normal will be significantly different
We are learning every day to respond to the new normal, about the problems to be solved. Our interactions with customers remotely during the lockdown have created more awareness of the various technologies that we believe will be the new essential. This is to ensure our customers can make well-informed decisions like ever before.
This is borne out in thinking that prevails worldwide. Prat Vemana of Kaiser Permanente says "It is also bringing down walls in a different way… I can work across time zones, work across collaboration tools," he says. "Keeping that momentum, and leveraging it, and giving the space for people who still need to have work-from-home needs, and help them continue that."Or Dr. Devi Shetty, Founder and Chairman of Narayana Health Chain, "My advice to entrepreneurs is to develop products beyond the scope of COVID-19, identify large hospital chains for strategic and fruitful partnerships, and build products that doctors can advocate"
We want our customers to use this time to look at their own needs and reset their expectations. This is how we build resilience. At this time of change, many will be open to change their ways of working without fear of failure. We work for a healthier India and our solutions will be relevant. Our GenWorks way is the way forward and we will evolve to stay current in the context of your emerging needs.
The "New Normal" needs more responsible solutions than mere opportunistic transactions and we are learning with every interaction with you to reset our actions.
We are building compelling Solutions. We need adoption.
Cheers,
S Ganesh Prasad