Vyaire Medical Expands Presence in India with GenWorks Deal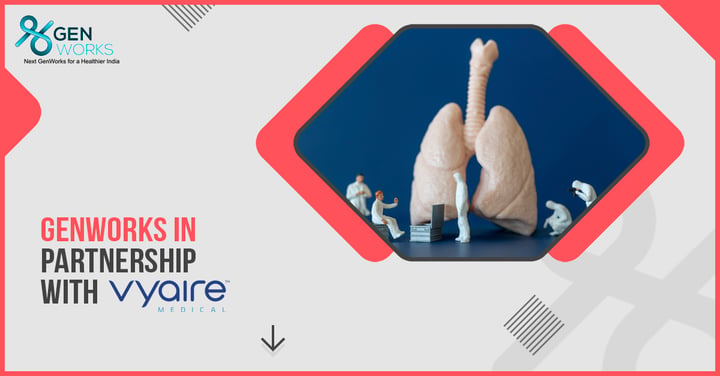 Vyaire Medical's new distribution partnership in India significantly expands the company's footprint and provides greater accessibility to high-quality pulmonary screening, testing, and treatment for the country's 1.4 billion people.
In May, Vyaire Medical, a global company focused exclusively on supporting breathing through every stage of life, entered into an agreement with GenWorks, a healthcare solutions provider with 140 locations within India and a direct presence in 27 states.
The partnership brings Vyaire Medical's portfolio of diagnostic and treatment products to doctors, clinics, hospitals, universities, and diagnostic centers at a time when the respiratory disease burden of the country has been further stretched because of the COVID-19 pandemic.
"As we continue to hear news of the devastating impact COVID-19 is having on the nation of India, we must balance our grief and sympathy with action to help make a difference," said Gaurav Agarwal, CEO of Vyaire Medical. "Our partnership with GenWorks will greatly expand access to critical pulmonary healthcare products to people all across India."
The distribution agreement includes a range of screening, testing, and diagnostic solutions to pulmonary care in India. The patient- and clinician-friendly devices are suitable for all age groups and are backed by software enabling a database and back-end solutions.
Vyaire Medical has a presence in more than 100 countries worldwide and was one of the first companies to create a complete portfolio for pulmonary function testing and diagnosis.
GenWorks is a healthcare start-up created to provide affordable solutions that enable customer success in all 720 districts of India where access to healthcare technology and training are minimal. It is a Wipro GE invested company which was created to align with the needs of every hospital and clinic and understand their ecosystem to structure affordable solutions.
As a technology company it has distributor partnerships with companies such as GE, Natus, MobileODT, Mennen Medical, Belmont Medical, InVit to name a few that are the best in their respective fields, to build solutions.
The partnership is expected to greatly improve the diagnosis of pulmonary conditions as well as the monitoring and treatment of patients across India, particularly regions outside major metropolitan areas.
"We have great products and we are market leaders in many countries around the world. We wanted a distribution partner to help us make our quality products accessible to the larger population," said Sandeep Chalke, President, Asia-Pacific & Latin America. "GenWorks brings in local customer access and distribution reach, while we bring in a trusted portfolio of products."
The Vyaire Medical-GenWorks partnership is intended to benefit pulmonary care in India even beyond the current COVID-19 crisis as the virus is known to have potentially long-term detrimental effects on an individual's lungs.
"Patients who recover from COVID-19 will have to be more careful about respiratory health and the pandemic will significantly increase the burden of respiratory care in India," said S. Ganesh Prasad, CEO of GenWorks Health. "Early screening and diagnosis will help to significantly improve care and reduce the cost. Our partnership with Vyaire Medical is a great addition to our portfolio."
In addition, the World Health Organization has noted the strong link between respiratory ailments and environmental conditions. As a result, the WHO considers effective screening an important process in identifying, treating, and preventing respiratory diseases.
"Fundamentally in India the respiratory diagnostic market is in the early stage," Chalke said. "This distribution agreement allows us to be a strong player and to be able to serve the India market for years to come."