Why Gynaecologists should make Colposcopy common to make Cervical Cancer uncommon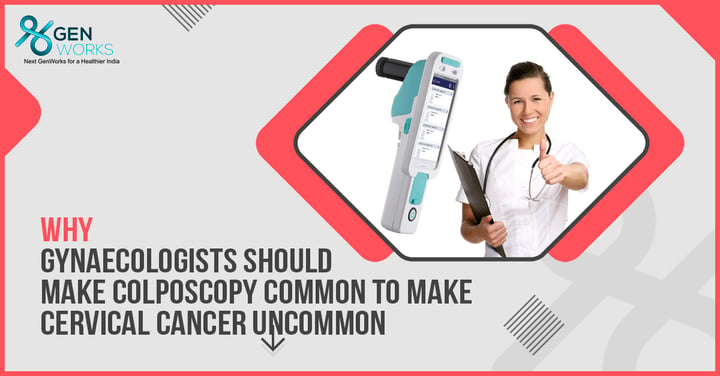 Cervical cancer is the commonest cancer among women worldwide and every 8 minutes one Indian woman dies of cervical cancer, says National Cancer Registry Program of ICMR. Though cervical cancer is the only 100% preventable cancer with vaccination and timely screening, it remains the leading cause of death due to cancer among women in India.
Why don't women reach out and get screened?
Despite the public importance that the menace of cervical cancer merits, lack of awareness of the need for timely screening remains a crucial obstacle. It is compounded by lack of reliable access to screening facilities and resources, especially in the rural areas. While urban women are better off in terms of access to screening, many of them either delay, don't take up the lifesaving screening, or don't return for follow-up appointments. Lack of awareness, illiteracy, shyness and social taboos, negative feelings such as fear of pain, embarrassment and awkwardness are the main reasons attributed to women not reaching out to getting screened for cervical cancer. Typically, Indian women might undergo gynaecological examinations for reasons such as pregnancy, infertility, abnormal bleeding and menopausal complications rather than for preventative screening.
The role of gynaecologists in cervical screening
Gynaecologists therefore, play a crucial role in allaying fears and creating awareness on the need to be screened. The cervical screening protocol calls for a Pap smear cytology which is the internationally accepted screening method for cervical cancer A Pap smear looks for abnormal cells which could be the first signs of cervical cancer. For certain women based on their age and prior history, human papillomavirus (HPV) testing may also be performed along with the Pap test.
If the pathology reports of the Pap and/or the HPV tests report abnormalities or present inconclusive results, the gynaecologist then calls the patient for a follow-up and uses colposcopy to get a closer look at blood vessels, tissue structure, colour, and patterns and take a biopsy of targeted tissue sample from the vagina or cervix for further study.
Why don't women take follow-up tests?
Regular population-based screening programmes in India report that it is highly likely that a large number of women won't come back to collect the test results and take up follow-up colposcopy intervention if they are sent away after taking the Pap smear and/or HPV test.
The loss of follow-up patients for colposcopy is also due to the fact that colposcopy services are not available in-house and patients are referred to tertiary-care hospitals or diagnostic centres. Many studies reiterate that poor patient–provider interactions restrict access to colposcopy services, while a long-standing relationship and trust with a primary clinician can optimise uptake. Therefore, it becomes imperative that treatment based on colposcopy be also offered in the first and the same visit of Pap smear/HPV screening by the gynaecologist and/or the primary health care provider.
Eva from Genworks - Affordable in-house colposcopy solution for timely intervention
It is in this context, visual cervical cancer screening technology such as Eva from Genworks, as an effective primary screening tool, has revolutionised diagnosis of cervical cancer around the world. Timely detection of precancerous and cancerous lesions based on high quality and real-time digital images could be an effective point-of care diagnostic tool that can help fight cervical cancer. Therefore, the need of the hour, is that such a technology is made available to the maximum number of women everywhere. That is possible only when this technology is not confined to diagnostics centres, multi-speciality hospitals and tertiary-care units, but are brought into clinics and nursing homes to be extensively used by gynaecologists at the primary and secondary point-of care.
Eva from Genworks - portable and user-friendly
Colposcopes used to be bulky and required a dedicated room for performing the procedure. EVA from Genworks is a mobile lightweight colposcope that allows maximum flexibility and ease of use. The EVA Colposcope, combines custom software with a user-friendly interface, built-in documentation and 16x magnification capabilities, to let gynaecologists finish a colposcopy examination quickly at the same time as that of a routine pelvic examination. The EVA system with a touch screen can be easily adopted into the pelvic examination routine examinations and the gynaecologist can perform colposcopies with just 2 to 3 hours of training.
Patient Retention and follow-up made easy through EVA
It can be quite daunting for the patient to be told to further undertake a test to rule out the presence of cancer and patients may view colposcopy as painful and worrying procedure. Therefore, patient retention and follow-up becomes easier, if gynaecologists themselves perform colposcopy in the same visit as the routine pelvic examination. EVA system helps educate the patients with real-time imaging. Patient experience and outcomes are much better if the procedure is done and one-on one counselling is given by the patient's own gynaecologist. This increases the patient trust and helps patient retention for further treatment that may be required.
Teleconsultation possible through EVA
EVA makes it extremely easy to securely share images and get complete professional support from a remote expert colleague from their point of care. Using the teleconsultation feature they can hear and see each other during the discussion and sharing of information. This enables timely diagnosis, expert suggestions for treatment and advice for further referrals if required, all enabled in the same visit.
Gynaecologists and EVA can work together in the fight against cervical cancer
With high incidence of HPV being the cause of cervical cancer in India, HPV testing along with the Pap smear test are increasingly set to be the primary screening methods in India too. This necessitates the inclusion of colposcopy as a routine diagnostic procedure. Incorporation of the EVA system into the gynaecological examination routines and women health check-ups is the way ahead to help patients receive all screening procedures in a single visit. Colposcopies with EVA are safe, far less uncomfortable and provide a positive experience when performed by the gynaecologist. Gynaecologist armed with EVA shall indeed be the frontline warriors in the fight for improved cervical health and reducing the incidence of cervical cancer in India drastically.