The Importance of Thinking Beyond Big Companies in the Business World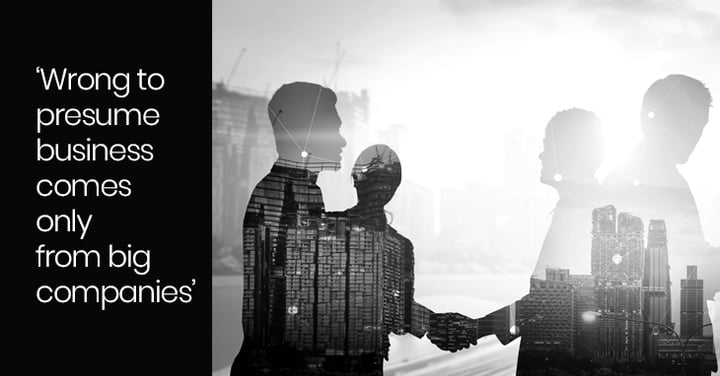 Sharing experience: Mr S. Ganesh Prasad (left), Director, Wipro GE Health Care Services; Mr Ruediger Schroeder, President and CEO, Roots Multiclean Ltd; Mr.Srinivas Acharya, Managing Director, Sundaram BNP Paribas Home Finance Ltd; Mr P.R. Somasundaram, Managing Director and CEO, Lakshmi Vilas Bank and Mr Vivek Bhattacharyya, Vice-President, Higher Education 24×7 Learning Pvt Ltd, interacting with students at 'Meet the CEO conclave' in Coimbatore on Sunday. — Photo: M. Periasamy
COIMBATORE, APRIL 1 :
It is 'completely wrong' to presume that business world exists only out of the big companies, according to Mr Ruediger Schroeder, President and CEO, Roots Multiclean Ltd, Coimbatore.

Speaking at 'Aspire', a 'Meet the CEO conclave' organised by The Hindu Business Line, Indian Chamber of Commerce and Industry, Coimbatore, and PSG Institute of Management here today, he said often during his interaction with students, he found them always asking about Mercedes, Tatas or Reliance. This was because they seemed to think that 'the business world exists only out these', which was 'completely wrong'.

Mr Schroedersaid there were huge opportunities for MBAs in the SME sector too and they could become CEOs of these companies 'much easier than of Tatas', and the chances of learning quickly were far more in smaller companies.
He said the world was getting 'very global'. As the industrial scenario would be changing fast, the students should be 'very flexible, very open'. From a company's perspective India was a single market and the MBAs would have to 'think India-wide'. While finding opportunities for themselves and companies they work for, management graduates should also be creative.

Mr Schroeder said India was 'one of the big markets' that would grow over the next 10-20 years, despite some dips due to domestic or global factors. But there was 'only one way it can grow and hopefully close to two digits'.

Mr P.R. Somasundaram, MD and CEO, Lakshmi Vilas Bank, Karur, speaking on 'innovation at work place', said innovation should meet the needs of customers.

Stating that innovation was a cultural thing, he said 'it has got to be in the air of an organisation'. While it could not be forced, it could be fostered. Innovation was something that was brought out in the day-to-day behaviour of employees.

Mr Srinivas Acharya, Managing Director, Sundaram BNP Paribas Home Finance Ltd, Chennai, said before Independence those who had connections, power, money and were politically inclined had the first mover advantage. But after the economy opened up, many had made use of the opportunities to create markets out of them.
Mr Ganesh Prasad, Director, Wipro GE Health Care Services, said India was a very, very aspirational market and an entrepreneurial-mindset market, 'which is a best of both worlds'.

It offered additional challenge of having to create products and services that related to the people who aspire to be better and would invest.

Mr Vivek Bhattacharyya, Vice-President (Higher Education) at 24×7 Learning Pvt Ltd, advised students to do a strength, weakness, opportunity, threat (SWOT) analysis to understand their weakness and work towards improving it, inculcate extensive reading habit and use the Internet/ social media to gain knowledge.

Mr D. Sampath Kumar, Editor, The Hindu Business Line, in his concluding remarks, reiterated that the process of education had just started for these to-be managers and they would therefore have no choice but to be continuously engaged in it.

He urged them to engage themselves in deep introspection and learn through the process of self-discovery their strengths and weaknesses.

Dr R. Nandagopal, Director, PSG Institute of Management, citing a survey, said that B-Schools produced managers, not leaders. The students passing out from the top business schools in the country were poor team workers.
Mr Krishnan, President, Indian Chamber of Commerce and Industry, Coimbatore, said the conclave aimed at enabling the students to benefit from the rich experience of business leaders.

Nearly 125 MBA students from institutions in and around Coimbatore participated.