One of the most exciting features is the storage portal where you can go back and review your images, annotate your notes, and interface with your electronic health record.
CHERLY A. GIBSON, MD FACOG
CLINICAL ASSOCIATE PROFESSOR OB/GYN
UVM COLLEGE OF MEDICINE
Always double check with
AI for cervical health examinations. Experience artificial intelligence in cervical health screening!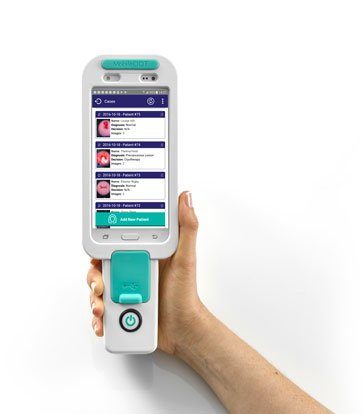 eva
The Gynac Stethoscope with AI brings to you
EXPERT
ASSISTANCE
ENHANCED
WORKFLOW
IMPROVED
PRODUCTIVITY
AI clinical decision support
for assessing cervical health
VisualCheck* provides clinicians with AI (Augmented Intelligence) clinical decision support technology to assess for normal and abnormal cervical findings. Using a complex algorithm, VisualCheck predicts how highly trained colposcopists determine findings of the cervix.
The algorithm is trained on thousands of images of the cervix that the top colposcopists have annotated. This is based on Indian & global data.
EXPERT
OPTION
AI clinical decision support based on the analysis of leading colposcopists
POINT
OF CARE
VisualCheck & the EVA System combine to provide high quality visualization and quality controls for any location
SAVE
TIME
AI answers are provided quickly to improve the time management of patient visits
CONNECTED. PORTABLE. AFFORDABLE
The Smart Colposcope
EVA COLPO helps you conduct cervical and vulvar digital examinations in a variety of settings.
A simple interface
EVA's easy-to-use software enables easy patient data management, image and video capture, annotations, clinical decision-tracking, and easy data export for integration into electronic medical records.
Improved workflow
EVA's integrated patient data collection, storage, and secure collaboration feature reduces unnecessary paperwork and saves time.
Enhanced clinical services
EVA's affordability enables cervical examinations with a video colposcope at a fraction of the price of a traditional colposcope.
Real-time or after the examination
Use EVA to LIVE stream your examination to any place around the world or use secure case-sharing features to receive clinical support and quality assurance from experts and peers.
Empowered patient experience
Enhance patient understanding of their health condition, diagnosis, and treatment options through educational image review.
IMAGE QUALITY
State-of-the-art medical optics
EVA's innovative imaging algorithms and 16x optical magnification enable sharp visualization and high-quality vulvar and cervical image or video capture.
Add annotations and filters to images
Use EVA´s image enhancement features such as annotations for
biopsy location and a green filter for tissue differentiation to add
crucial patient assessment information to aid diagnosis.
"EVA COLPO is one of the greatest things to happen to women's cervical health. It allows clinicians to review cervix images after an examination and is also really helpful for patients to be shown part of their anatomy they don't usually get an opportunity to visualize."
BONNIE BETTS
NURSE PRACTITIONER
FPA MEDICAL
SOLUTIONS
A solution for every need
Whether you're a women's health provider working independently, or a hospital looking to optimize ROI
and services, MobileODT has the solution to get you on your way.
EVA for women's health practitioners and small clinics
EVA for health networks and hospitals
EVA for NGO's and Global Health
Ready to streamline your colposcopy exams?