Rebuilding Affordable Healthcare for the New Normal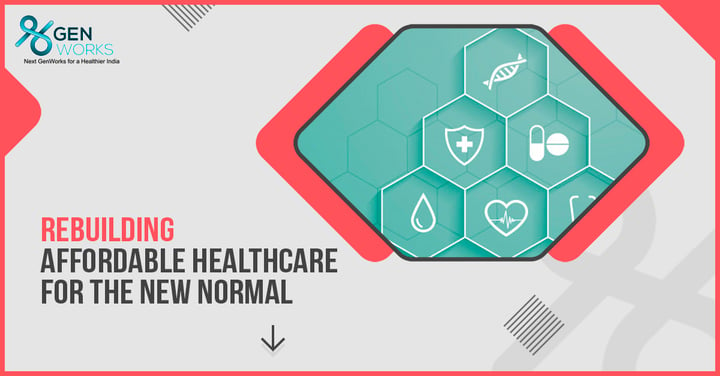 The New Normal needs healthcare that rides on digital connectivity.
India is a potpourri of cultures and opportunities and aspirations. This is true of the Heath care industry where uber cities providing hospitals with modern technology and latest innovations in medicine, and villages and mofussil towns with primary health centres sans doctors thrive together in perfect tandem. The state of art hospitals fuse healthcare and hospitality to give patients and their family an 'experience' to remember and pull them back repeatedly while primary health care centres cry for medical assistance and patients are driven out to reach for basic health facilities;thereby draining them of their savings, leading them to borrow and, driving them to the pits of poverty.
According to an article in The Tribune dated 26 November ,2019 Former President Pranab Mukherjee drew attention to the healthcare emergency India faces — as 80 per cent of the costs are paid out of pocket and healthcare debts plunge four to six crore Indians into poverty every year. We will examine how the Digital revolution in India could transform these statistics.
Atwo-foldapproach needs to be adopted; to reduce healthcare costs and to make Healthcare more equitable across the length and breadth of the country. We can begin by reducing the cost burden on patients by doing away redundant hospitality services that are built into theinfrastructure. Health care has to focus on solving the health issues of patients and providing efficiency in processes rather than creating huge cost for rendering hospitality to relatives and friends who overwhelm hospitals and diagnostic spaces.The focus should shift to investing capital on forging partnerships that are streamlined with digitisation to become error free. Investments should be made on ensuring data integrity, and portability of information for early and diagnosis and efficiency. Incorporating AI and the IoMT for remote patient monitoring, care delivery and operational excellence are further areas that would lead to affordable healthcare by shifting the focus from the volume and profitability of services provided—physician visits, hospitalizations, procedures, and tests—to the patient outcomes achieved. Cost reduction can also come about with bringing about awareness about the importance of prevention in healthcare .Clinical preventive strategies are available for many chronic diseases like intervening before disease occurs, detecting and treating disease at an early stage and managing disease to slow or stop its progression. Since these are increasingly being delivered by digital providers,it will help reduce risk of contagion too.Brick and mortar hospitals will gain by using digital platforms for procurement by giving them quality products at competitive prices especially in tier 2 and tier 3 cities , thereby cutting costs and bringing in a level platform pan India.
The equitable distribution of Healthcare received an impetus with Apps likeApollo 24/7 app, launched in February,Tattvan E Clinics , Practo, mFine, Lybrate, DocsApp, MedCords and others have stood the country in good stead at the time of the Covid 19 crisis by reaching out to provide quality care to remote rural areas at affordable rates.Digital hospitals delivered quality care to patients without compromising quality.This is a much needed transformation in the industry. According to an article in Researchgate.net, key challenges for the achievement of equity in service provision include an imbalance in resource allocation, inadequate physical access to high-quality health services and human resources for health, high out-of-pocket health expenditures, inflation in health spending, and behavioural factors that affect the demand for appropriate health care.
Data integration and its application to assess healthcare and creating awareness by sharing of best practices in healthcare via the digital mode could further ease the crisis in healthcare in rural areas and mofussil towns.
A Digital Renaissance is poised to become a frontrunner in providing equal and affordable health care services across the country.
https://nam.edu/wp-content/uploads/2019/12/AI-in-Health-Care-PREPUB-FINAL.pdf
https://repository.upenn.edu/cgi/viewcontent.cgi?article=1176&context=hcmg_papers
https://www.thehindu.com/news/national/on-independence-day-pm-modi-announces-health-id-card-for-every-indian/article32361701.ece
https://www.thehindubusinessline.com/news/variety/Health-care-and-equity-in-India/article20424746.ece