Hearing Screening Solutions
Jaundice Management
Eye Screening
Hearing Screening Solutions
Echo-Screen II
The truly automated all-in-one hearing screener
Only the Echo-Screen hearing screener combines advanced TEOAE, DPOAE, and ABR techniques with fully automated results and completely standardized, pre-set screening parameters.
Proprietary OAE & ABR Technologies
Automated results for TEOAE, DPOAE, and ABR Screening Techniques
TEOAE, DPOAE & ABR Technologies with Patented Binomial Statistics Algorithm
High accuracy and robust signal detection:
Transient Evoked Otoacoustic Emissions (TEOAE)
Screens for even a mild hearing loss
ABR technology
– Utilizes binomial template matching detection method
– Necessary for detecting auditory neuropathy1
Distortion Product Otoacoustic Emissions (DPOAE)
– Frequency specific screening: 2, 2.5, 3.2 and 4 kHz
For More Information: Download the Brochure
Echo-Screen III
Echo-Screen® III Hearing Screener
The next generation automated, all-in-one hearing screener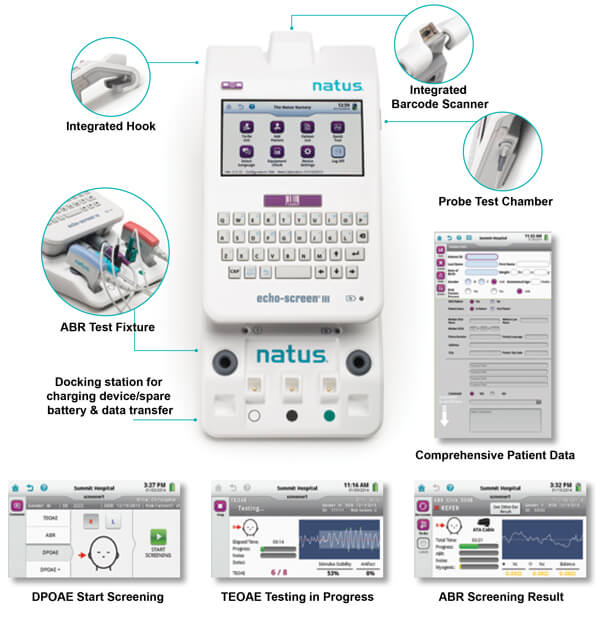 Flexible data entry, expanded input options and seamless data management
The Echo-Screen III device features both a hard key QWERTY keyboard and a touch-screen, so you can enter data the way you prefer. Integration with audble® LITE data management software enables configurable, comprehensive data management with tight integration with Microsoft Word® for custom letters and reports, while incorporating Conflict Resolution to assist in identifying and correcting data entry errors.
For additional information, including ordering information and technical specifications, download brochure.
For More Information:
Download the Brochure
Jaundice Management
Jaundice Management
BiliCare
Non-invasive transcutaneous bilirubin meter
Accurately and conveniently measures and monitors the level of bilirubin to assess the risk of neonatal hyperbilirubinemia.
Simple for the User & Gentle on the Baby

Reduces the need for or number of heel sticks by providing accurate measurements at the bedside
Only requires a single measurement per test

LED Transmission Technology Reduces User Variances & Maintenance Requirements

Less sensitive to motion artifacts & measurement differences based on user technique
LEDs do not deteriorate over time eliminating the requirement for routine device calibration
Speed and convenience
Reduces number of blood tests via heel puncture
Can use just one measurement or average 2–3 measurements
Can use with or without entering baby's ID
Large, clear display is easy to use
Resistive touch screen can be used with or without gloves
Menu-driven user interface minimizes training needs, facilitating use by multiple caregivers
Memory up to 40 measurements saves time in transcribing and comparing results
Barcode scanner facilitates quick and accurate entry of caregiver and baby identification
Accuracy
The BiliCare System was validated in clinical studies to produce results comparable to blood tests
Repeatability testing confirms reliable results
Option to enter both patient and user identification facilitates hospital audits and quality assurance
Low cost of ownership with a choice of reusable or disposable tips
The BiliCare System is capable of working with or without infection control tips
LEDs do not require routine calibration, minimizing downtime associated with maintenance and cost associated with service
Long-lasting, rechargeable battery with cradle allows extended use and ease of recharging
For additional information, including ordering information, download brochure.
For More Information: Download the Brochure
Eye Screening
Eye Screening
Forus 3 Nethra Neo
Digital Wide-field Imaging System
The 3nethra neo is a compact, portable, and easy-to-use mydriatic wide-field digital imaging system used for the photo documentation of ocular diseases that manifest in human eyes. The ergonomically designed, lightweight hand piece allows for single-handed operation and captures 120-degree high-resolution images of the posterior and anterior segments of the eye. The device acquires only digital photographs of the eye and does not provide any analysis or diagnosis. The contact device is easily operated by qualified clinicians and can be deployed in versatile clinical environment such as hospitals, operating rooms, and Neonatal Intensive Care Units (NICU).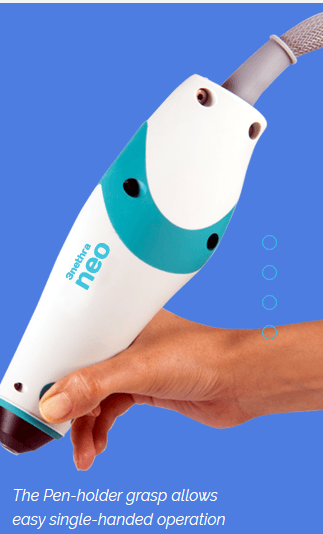 For More Information: Download the Brochure