GenWorks Health announces partnership with Synapsica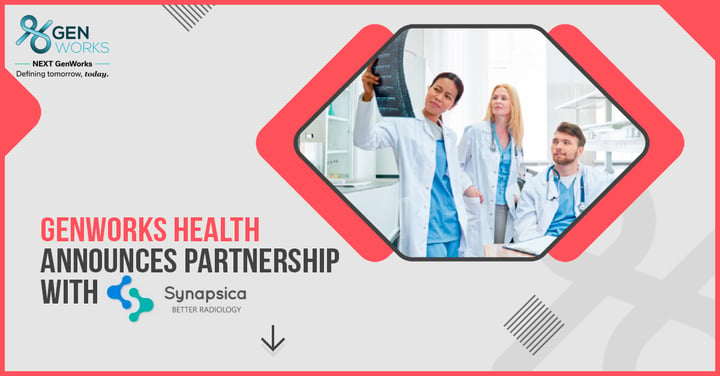 We are happy to announce our partnership with Synapsica, an AI-based radiology reporting company. We are confident that this partnership will be able to have hospitals & diagnostic centres provide radiology services 24X7 with the help of their trusted specialists. This can be deployed into their existing workflow to provide world class care and it is expected to be adopted in a big way.
GenWorks Health was created to expand access and affordable care, our partnerships are compelling for connecting the healthcare ecosystem with solutions that can provide early health.
Synapsica's AI enabled PACS (Picture Archiving and Communication System) radiology workflow solution 'Radiolens' across the country. The partnership will enable Synapsica to expand its geographic footprint and create access for Radiolens across 300+ tier 2 and 3 towns.
Our ability to leverage technology and existing ecosystems to connect healthcare and liquefy expertise helps to enable specialist access, and with this partnership, we take one step forward.
Ganesh Prasad, Founder, MD, & CEO, GenWorks Health believes that, Synapsica's Radiolens is a fantastic innovation and fits very well with our mission. The significant advantage that this partnership provides to us is to allow the Hospitals and diagnostic centres to manage their patients with their specialist work force efficiently and support with diagnostics 24X7 to improve patient care.
Meenakshi Singh, Co-founder & CEO of Synapsica said, "The supply of radiologists in India has not kept pace with the rapidly growing demand for radiology reporting in the country, leading to extreme pressure on the time spent by radiologists on each report. This is where Radiolens, our AI powered solution makes a difference by automating several tasks in the workflow for radiologists and offering greater insights for a more objective outcome. We are confident that GenWorks, with their deep network, will take our solution to healthcare providers in tier 2 and 3 cities and towns across the country and enable us to help these hospitals and diagnostic labs generate high quality radiology reports".